Two Girls of Gettysburg. . . brings the Civil War to Life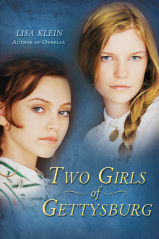 Lizzie and Rosanna are cousins and best friends, but when the Civil War breaks out, Lizzie finds herself committed to the Union cause, while Rosanna is swept up in the passions of the Old South--and in her love for a Confederate officer. The cousins grapple with the senseless brutality of war and the sacrifices that must be made in order to survive. It will take one of the war's bloodiest battles to reunite them. And in its aftermath, their lives are changed forever.An excellent choice for teaching the Civil War.
A 2011 Choose to Read Ohio pick
.
A teacher's toolkit is available at
http://www.webjunction.org/documents/ohio/2011-2012-toolkits/Two_Girls_of_Gettysburg.html
A Junior Library Guild Selection
"The story of a nation and a friendship divided,
Two Girls of Gettysburg
combines action, drama, and romance into a poignant and powerful novel."
--
JLG
"Terrific action and lively characterizations move the story along well....Klein succeeds in bringing home the horror of war within a finely told story."
--
Booklist
An "absorbing tale....beautifully told, with much attention to historical detail."
--
Children's Literature
"Compelling...a worthwhile addition to Civil War literature."
--
Kirkus Reviews
Click below for Teaching Guide
---