Lady Macbeth's Daughter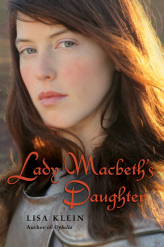 Albia has grown up with no knowledge of her father, the powerful thane Macbeth, and her mother, the grief-wracked Grelach. Instead she knows the dark lure of the Wychelm Wood and the moors, where she's been raised by three strange sisters. The ambitious Macbeth seeks to know his fate,and Albia's life becomes tangled with that of the man who leaves in his wake nothing but bloodshed. When Albia learns that she has the second sight, she must decide whether to ignore the terrible future she foresees—or to change it.
With only the shepherd Colum to aid her, Albia sets out on a journey fraught with peril. Will she be able to save the man she loves from her murderous father? Can she forgive her parents their wrongs, or must she destroy them?
"Klein's latest is a riveting, nuanced historical drama based on a Shakespearean play....As in Ophelia, Klein nimbly inserts feminist themes and vivid detail into the story, balancing the political tragedy and battlefield action, which culminates in an unforgettable scene of mercy. Readers won't need a firm grasp of Macbeth to enjoy this natural choice for English class, but the wrenching, richly told story may well send teens in search of the original, daughterless drama."
--
Booklist
"As she did with Ophelia (2006), Klein turns a Shakespeare play on its head with a combination of feisty female lead and careful historical research....Albia's engaging voice and struggles with her burgeoning psychic powers and with the truth of her parentage—plus her growing love for Fleance—make for a fast read with literary overtones."
--
Kirkus Reviews
From the
Columbus Dispatch: "Rejected Child Finds Her Way"
http://www.dispatch.com/live/content/life/stories/2009/10/17/2_KIDB17_ART_10-17-09_D3_FTFD1AF.html?sid=101
Discussion Guide
:
---